Dra. Dana Karina Urribarri


| | | |
| --- | --- | --- |
| | | dku (at) cs.uns.edu.ar |
| | | +54 0291 4595135 (int: 2636) |
| | | Of. B6, DCIC, UNS. San Andrés 800, (8000) Bahía Blanca, Argentina. |
| | | orcid.org/0000-0001-5446-7077 |
| | | scholar.google.com/citations?user=XXiLOA8AAAAJ&hl=es |
| | | www.researchgate.net/profile/Dana_Urribarri |
| | | www.cs.uns.edu.ar/~dku |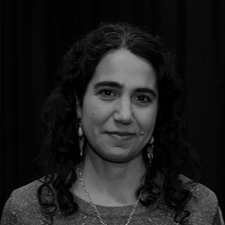 About Me
I'm a professor in the Department of Computer Science and Engineering, Universidad Nacional del Sur, Argentina.
I'm part of the VyGLab since 2005, when I started with a scholarship my last year as a student.
I got my PhD in Computer Science from Universidad Nacional del Sur in September 2014 under the supervision of Dr. Silvia M. Castro.
My research topics include data visualization, augmented reality and image processing.
Main Publications
| | | |
| --- | --- | --- |
| Güimil, E., Sacristán, Y., Urribarri, D. K., & Larrea, M. L. (2017). An Open-Source Spanish Video Game as a Case Study for the Development of an Interface for Users with Visual Impairment. In XXIII Congreso Argentino de Ciencias de la Computación (La Plata, 2017). | | |
| Urribarri, D. K., & Castro, S. M. (2017). Prediction of data visibility in two-dimensional scatterplots. Information Visualization, 16(2), 113-125. | | |
| Urribarri, D. K., Castro, S. M., & Martig, S. (2013). Gyrolayout: A Hyperbolic Level-of-Detail Tree Layout. J. UCS, 19(1), 132-156. | | |
| Escarza, S., Larrea, M. L., Urribarri, D. K., Castro, S. M., & Martig, S. R. (2011). Integrating semantics into the visualization process. In Dagstuhl Follow-Ups (Vol. 2). Schloss Dagstuhl-Leibniz-Zentrum fuer Informatik. | | |
| Larrea, M., Urribarri, D., Martig, S., & Castro, S. (2009). User Experience with Spherical Layout. In IADIS International Conference Computer Graphics, Visualization, Computer Vision and Image Processing 2009 (part of MCCSIS 2009) (pp. 272-276). | | |
| Larrea, M., Urribarri, D., Martig, S., & Castro, S. (2009). Spherical layout implementation using centroidal voronoi tessellations. arXiv preprint arXiv:0912.3974. | | |
| Urribarri, D. K., Castro, S. M., & Martig, S. R. (2006). Interacciones sobre coordenadas paralelas en el marco del Modelo Unificado de Visualización. In XII Congreso Argentino de Ciencias de la Computación. | | |
Other Publications
| | | |
| --- | --- | --- |
| Sánchez, F., Urribarri, D. K., & Castro, S. M. (2019, June). Técnicas biométricas: análisis de las técnicas actuales y nuevas tendencias. In XXI Workshop de Investigadores en Ciencias de la Computación (WICC 2019, Universidad Nacional de San Juan). | | |
| Larrea, M. L., Selzer, M. N., Urribarri, D. K., Ganuza, M. L., & Castro, S. M. (2019, June). Verificación y validación de representaciones visuales y sus interacciones. In XXI Workshop de Investigadores en Ciencias de la Computación (WICC 2019, Universidad Nacional de San Juan). | | |
| Dana K. Urribarri, Juan I. Larregui, Martín L. Larrea, and Silvia M. Castro. (2018). Reconstrucción y animación 3d. In XX Workshop de Investigadores en Ciencias de la Computación. | | |
| Castro, S. M., Larrea, M. L., Urribarri, D. K., Ganuza, M. L., & Escarza, S. (2018). Métricas, técnicas y semántica para la visualización de datos. In XX Workshop de Investigadores en Ciencias de la Computación (WICC 2018, Universidad Nacional del Nordeste). | | |
| Urribarri, D. K., Larrea, M. L., & Castro, S. M. (2017, August). Análisis de capturas de movimientos para la animación de humanos virtuales. In XIX Workshop de Investigadores en Ciencias de la Computación (WICC 2017, ITBA, Buenos Aires). | | |
| Larrea, M. & Castro, S. M. & Urribarri, D. K. & Escarza, S. (2017, August). Visualización basada en semántica. In XIX Workshop de Investigadores en Ciencias de la Computación (WICC 2017, ITBA, Buenos Aires). | | |
| Paolini, G. B. & Castro, S. M. & Urribarri, D. K. & Castro, L. R. (2015, May). Filtro de kuwahara cuasi-anisotrópico para regiones volumetricas de r3. In V Congreso de Matemática Aplicada, Computacional e Industrial (V MACI 2015), pages 447--450. Universidad Nacional del Centro de la Prov. de Buenos Aires, Tandil. | | |
| Urribarri, D. K. (2015, August). Predicción del desempeño de las técnicas de visualización a partir de métricas sobre los datos. In XVII Workshop de Investigadores en Ciencias de la Computación (Salta, 2015). | | |
| Gazcón, N. F., Trippel Nagel, J. M., Urribarri, D. K., Bjerg, E., & Castro, S. M. (2015, May). Realidad aumentada en exteriores e interiores. In XVII Workshop de Investigadores en Ciencias de la Computación (Salta, 2015). | | |
| Larregui, J. I., Urribarri, D. K., Ganuza, M. L., Boscardín, L. B., Paolini, G. B., Castro, S. M., & Castro, L. R. (2015, May). Modelado multirresolución para la representación de imágenes y de objetos 3D. In XVII Workshop de Investigadores en Ciencias de la Computación (Salta, 2015). | | |
| Sacristán, Y., Güimil, E., López, A. L., Fiedrich, V., Urribarri, D. K., & Larrea, M. L. (2015, May). Interacción humano computadora en usuarios con discapacidades visuales. In XVII Workshop de Investigadores en Ciencias de la Computación (Salta, 2015). | | |
| Ganuza, M. L., Larrea, M. L., Trippel Nagel, J. M., Urribarri, D. K., Castro, S. M., Ferracutti, G., ... & Bjerg, E. (2014, October). Visualización de Datos aplicada a resolver problemas en Ciencias Geológicas. In XVI Workshop de Investigadores en Ciencias de la Computación. | | |
| Larrea, M. L., Urribarri, D. K., Ganuza, M. L., Pinassi, A., Varisto, Y. M., Lobos, P., Bjerg, A., Ercolani, P., Pupio, M. A., Frontini, R., & Simon, C. (2014). TICs y difusión del patrimonio cultural. In XVI Workshop de Investigadores en Ciencias de la Computación (WICC 2014). | | |
| Larrea, M. L., Escarza, S., Urribarri, D. K., Castro, S. M., Herrera, A. E., Escobal Blanco, C. A., & Cerúsico, G. (2014, October). Ontologías y Semántica en el Proceso de Visualización. In XVI Workshop de Investigadores en Ciencias de la Computación. | | |
| Larrea, M. L., Escarza, S., Urribarri, D. K. & Castro, S. M. (2013). Ontologías y Semántica en el Proceso de Visualización. In XV Workshop de Investigadores en Ciencias de la Computación (WICC 2013). | | |
| Larrea, M. L., Escarza, S., Urribarri, D. K., Martig, S. & Castro, S. M. (2012). Ontologías y Semántica en el Proceso de Visualización. In XIV Workshop de Investigadores en Ciencias de la Computación (WICC 2012). | | |
| Martig, S. R., Castro, S. M., Larrea, M. L., Escarza, S., Escudero, M., Ganuza, M. L., ... & Di Luca, S. (2012). Interfaces no convencionales. In XIV Workshop de Investigadores en Ciencias de la Computación. | | |
| Urribarri, K. U., Castro, S. M. & Martig, S. (2010) Caracterización de conjuntos de datos. In Anales del XII Workshop de Investigadores en Ciencias de la Computación (WICC 2010), pages 266--269, Calafate, Santa Cruz, May 2010. Universidad Nacional de la Patagonia San Juan Bosco. ISBN 978-950-34-0652-6. | | |
| Larrea, M., Urribarri, D., Martig, S., & Castro, S. (2009). Spherical layout implementation using centroidal voronoi tessellations. arXiv preprint arXiv:0912.3974. | | |
| Martig, S. R., Castro, S. M., Larrea, M. L., Escarza, S., Escudero, M., Ganuza, M. L., Urribarri, D. K., ... & Flores Choque, D. (2009). Interfaces no convencionales. Su impacto en las interacciones. In XI Workshop de Investigadores en Ciencias de la Computación (WICC 2009). | | |
| Urribarri, K. U., Castro, S. M. & Martig, S. (2008) Caracterización de Conjuntos de Datos en Visualización. In X Workshop de Investigadores en Ciencias de la Computación (WICC 2008), pages 289--292. Universidad Nacional de La Pampa, General Pico, La Pampa, May 2008. ISBN 978-950-863-101-5. | | |
| Martig, S. R., Castro, S. M., Larrea, M. L., Escarza, S., Urribarri, D. K., Escudero, M., & Ganuza, M. L. (2007). Herramientas de visualización para la exploración de datos. In IX Workshop de Investigadores en Ciencias de la Computación. | | |
| Urribarri, D. K., Castro, S. M., & Martig, S. R. (2007). Escalabilidad visual en grandes grafos. In IX Workshop de Investigadores en Ciencias de la Computación. | | |
| Urribarri, D. K., Castro, S. M., & Martig, S. R. (2006). Escalabilidad visual en coordenadas paralelas. In VIII Workshop de Investigadores en Ciencias de la Computación. | | |